Press Release – Removal of Research
Washington, D.C. - April 17, 2022
Removal of Research Information
The Stronghold Freedom Foundation (SFF) is the first and only nonprofit organization whose mission is to address the toxic exposure of military veterans who were deployed to Karshi-Khanabad (K2), Uzbekistan during Operation Enduring Freedom (OEF). The Foundation's mission is to bring awareness to the long-term effects of exposure to toxins that were unknown at the time. We do this by raising awareness of the dangers our veterans were exposed to in their daily lives. The Foundation then utilizes strategic partnerships to help veterans deal with the effects of those exposures.
SFF's primary focus has always been to ensure care for K2 Veterans.  At the request of former volunteer, Osla, we have returned work done by her on behalf of the foundation. This also included emails and contacts from her SFF email account. SFF has also removed documents she compiled and placed on our website and Facebook site. SFF is disappointed because we believe these documents are beneficial to our K2 veterans and are not copyrighted to her.  Pending legal review, we hope to restore these documents soon.
If you have any questions regarding this topic, please do not hesitate to reach out to our Executive Director Mark Jackson at mark.jackson@strongholdfreedomfoundation.org.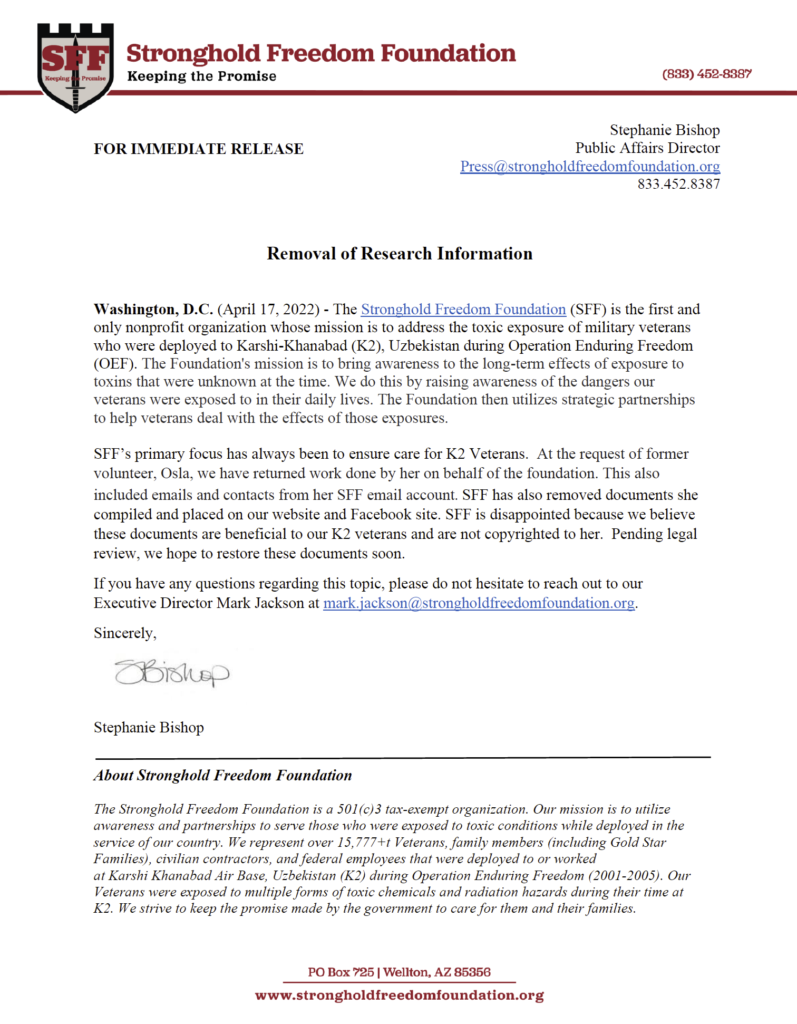 About Stronghold Freedom Foundation  
The Stronghold Freedom Foundation is a 501(c)3 tax-exempt organization.
Our mission is to utilize awareness and partnerships to serve those who were exposed to toxic conditions while deployed in the service of our country. We represent almost 16,000 Veterans, family members (including Gold Star Families), civilian contractors, and federal employees that were deployed to or worked at Karshi Khanabad Air Base, Uzbekistan (K2) during Operation Enduring Freedom (2001-2005).
Our Veterans were exposed to multiple forms of toxic chemicals and radiation hazards during their time at K2. We strive to keep the promise made by the government to care for them and their families.