Press Release – Investigative Findings on the removal of Executive Director, PJ Widener from the Board of Directors
Washington, D.C. - December 20, 2021
In early 2021, PJ Widener was asked to step down from his position with the Board of Directors as Executive Director with the Stronghold Freedom Foundation (SFF). SFF conducted an internal investigation, and it was determined that after reviewing statements and talking with current and previous members of SFF, that the Board of Directors had significant reason to ask PJ Widener to step down from his role. Several former members were not comfortable providing statements. Any attempts to contact PJ went unanswered.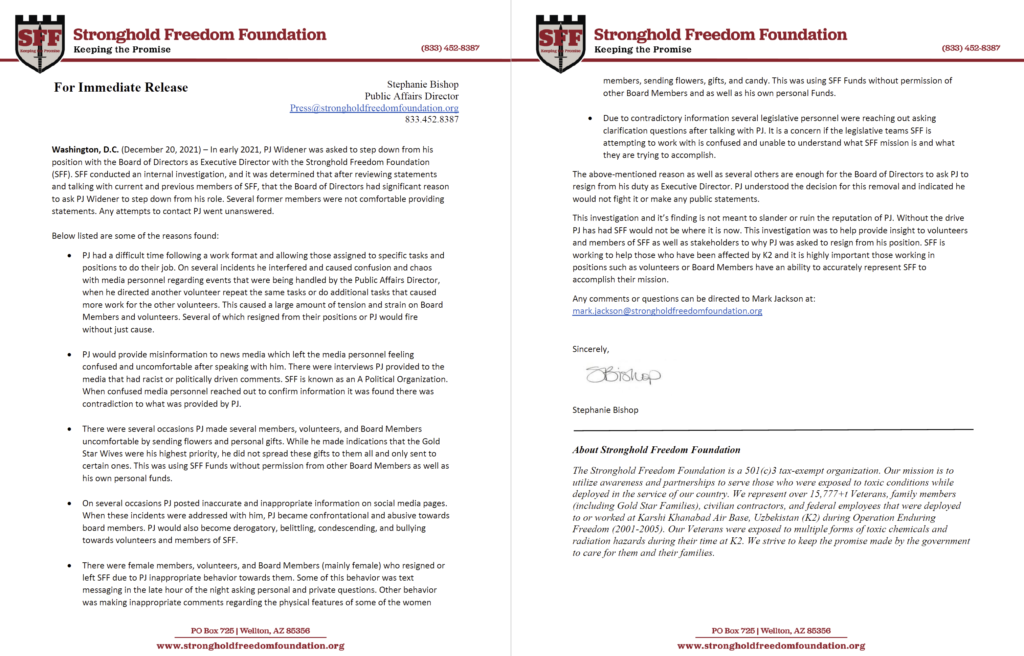 Below listed are some of the reasons found:
PJ had a difficult time following a work format and allowing those assigned to specific tasks and positions to do their job. On several incidents, he interfered and caused confusion and chaos with media personnel regarding events that were being handled by the Public Affairs Director, when he directed another volunteer to repeat the same tasks or do additional tasks that caused more work for the other volunteers. This caused a large amount of tension and strain on Board Members and volunteers. Several of them resigned from their positions or PJ would fire without just cause.
PJ would provide misinformation to news media which left the media personnel feeling confused and uncomfortable after speaking with him. There were interviews PJ provided to the media that had racist or politically driven comments. SFF is known as an A Political Organization. When confused media personnel reached out to confirm information it was found there was a contradiction to what was provided by PJ.
There were several occasions PJ made several members, volunteers, and Board Members uncomfortable by sending flowers and personal gifts. While he made indications that the Gold Star Wives were his highest priority, he did not spread these gifts to them all and only sent them to certain ones. This was using SFF Funds without permission from other Board Members as well as his own personal funds.
On several occasions, PJ posted inaccurate and inappropriate information on social media pages. When these incidents were addressed with him, PJ became confrontational and abusive towards board members. PJ would also become derogatory, belittling, condescending, and bullying towards volunteers and members of SFF.
There were female members, volunteers, and Board Members (mainly female) who resigned or left SFF due to PJ's inappropriate behavior towards them. Some of this behavior was text messaging in the late hour of the night asking personal and private questions. Other behavior was making inappropriate comments regarding the physical features of some of the women members, sending flowers, gifts, and candy. This was using SFF Funds without permission of other Board Members and as well as his own personal Funds.
Due to contradictory information, several legislative personnel were reaching out asking clarification questions after talking with PJ. It is a concern if the legislative teams SFF is attempting to work with are confused and unable to understand what SFF's mission is and what they are trying to accomplish.
The above-mentioned reason as well as several others are enough for the Board of Directors to ask PJ to resign from his duty as Executive Director. PJ understood the decision for this removal and indicated he would not fight it or make any public statements.
This investigation and its finding is not meant to slander or ruin the reputation of PJ. Without the drive, PJ has had SFF would not be where it is now. This investigation was to help provide insight to volunteers and members of SFF as well as stakeholders as to why PJ was asked to resign from his position. SFF is working to help those who have been affected by K2 and it is highly important those working in positions such as volunteers or Board Members have an ability to accurately represent SFF to accomplish their mission.
Any comments or questions can be directed to Mark Jackson at: mark.jackson@strongholdfreedomfoundation.org
Official press release: Statement of Finding PJ.pdf
About Stronghold Freedom Foundation  
The Stronghold Freedom Foundation is a 501(c)3 tax-exempt organization.
Our mission is to utilize awareness and partnerships to serve those who were exposed to toxic conditions while deployed in the service of our country. We represent almost 16,000 Veterans, family members (including Gold Star Families), civilian contractors, and federal employees that were deployed to or worked at Karshi Khanabad Air Base, Uzbekistan (K2) during Operation Enduring Freedom (2001-2005).
Our Veterans were exposed to multiple forms of toxic chemicals and radiation hazards during their time at K2. We strive to keep the promise made by the government to care for them and their families.