SFF On the Cover of The American Legion Magazine
Washington, D.C. - March 1, 2021
The American Legion has been a huge supporter of our veterans at Karshi-Khanabad (K2) in Uzbekistan publishing over 100 different informational articles referencing what our K2 veterans have gone through all the way to the legislation SFF is fighting for since 2010.
Their March publication honors and represents Stronghold Freedom Foundation on their cover. Ken Olsen authored the article, "The Casualties of K2," where he tells the stories of veterans who are suffering from rare cancers and other illnesses as a result of their service at Karshi-Khanabad in Uzbekistan.
The article can be located at March American Legion Magazine shines light on K2 toxic exposure | The American Legion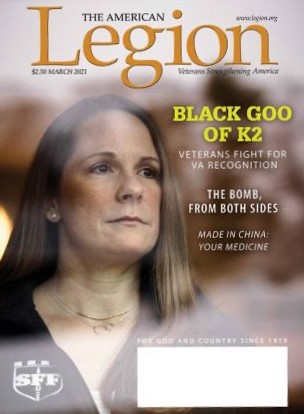 About Stronghold Freedom Foundation  
The Stronghold Freedom Foundation is a 501(c)3 tax-exempt organization. Our mission is to utilize awareness and partnerships to serve those who were exposed to toxic conditions while deployed in the service of our country. We represent almost 16,000 Veterans, family members (including Gold Star Families), civilian contractors, and federal employees that were deployed to or worked at Karshi Khanabad Air Base, Uzbekistan (K2) during Operation Enduring Freedom (2001-2005). Our Veterans were exposed to multiple forms of toxic chemicals and radiation hazards during their time at K2. We strive to keep the promise made by the government to care for them and their families.